Home
Welcome to the Gay and Lesbian History on Stamps (GLHS) website! After a five-year lapse, the GLHS was reactivated in 2018. We hope to be a resource for those who collect LGBT on stamps or who are LGBT and collect stamps. In addition, we gather for meetings and socializing at the APS Stampshow/National Topical Stamp Show during the summer, as well as other philatelic events around the country; we look forward to seeing you there!
The objectives of Gay and Lesbian History on Stamps are to promote the interest in the collection, study and dissemination of knowledge of world-wide philatelic material that depicts:
Notable men & women and their contributions to society for whom historical evidence exists of homosexual or bisexual orientation
Mythology, historical events and ideas significant in the history of gay culture
Flora and fauna scientifically proven to having prominent homosexual behavior.
Even though emphasis is placed on the above aspects of stamp collecting, GLHS strongly encourages other philatelic endeavors.
As you surf through our website, be sure and visit our Gallery featuring LGBT stamp issues, postmarks and covers. There's also an archive of our quarterly publication, the Gay and Lesbian History on Stamps Journal and a predecessor, the Lambda Philatelic Journal. Access to some features is limited without a membership in our society.
Want to join our Society and gain full access to all we have to offer? Click on the membership link above for an application.
GLHS To Hold Virtual Meeting December 8
GLHS will hold its third internet meeting of the year on Tuesday, December 8, 2020. There will be a program on filmmaker, actor and author Edward Davis Wood Jr., who directed a number of low-budget science fiction, crime and horror films in the 1950s, including the cheesy Plan 9 from Outer Space (1959), regarded as one of the worst films of all time. Invitations will be sent automatically to members a few days before that date. To receive a guest invitation to join the meeting, contact the club at the first email address listed on the "Contact Us" page.
More British Stamps with LGBT Characters
For the fourth time this year, Great Britain has issued LGBT related stamps. The August 18 issue consists of six stamps and a souvenir sheet of four stamps that celebrate the 10th anniversary Sherlock, a television series that ran from 2010-2017 with a modern take on the fictional private detective created by British author Sir Arthur Conan Doyles. Mark Gatiss co-created, produced, co-wrote and portrayed Sherlock's brother, Mycroft. Andrew Scott played Sherlock's nemesis, Jim Moriarty. Both Gatiss and Scott are openly gay. Moriarty can be found on two of the stamps The Reichenback Fall and The Great Game. Mycroft appears on The Final Problem. Like other British stamps, these may be ordered from the Royal Mail Shop
Great Britain Honors Rock Group Queen and singer Freddie Mercury
Great Britain commemorated Freddie Mercury and Queen's Brian May, Roger Taylor and John Deacon on 13 stamps that went on sale July 9. Like previous honorees in a continuing series of stamps honoring rock icons, some stamps have scenes from concert tours and others depict album covers. For the first time, there is a single definitive size stamp; it portrays Queen together in their first-ever studio photoshoot, captured at Primrose Hill in 1974. Lead singer Mercury, who previously appeared on one of the 1995 British Achievement stamps, died in 1991 at age 45 due to complications from AIDS. Though his relationships with other men are well documented, Mercury remained closeted to the end. The stamps, which may be ordered from the Royal Mail Shop were issued in a number of configurations including sheetlets, presentation packs and a prestige booklet. To see a larger image of the stamps, click here.
Roman Emperor Hadrian's Wall on New British Stamp
Hadrian's Wall made an appearance on one of eight stamps and eight postcards that debuted June 18. The stamp and postcard sets consist of photos of historical sites and artifacts that reveal the enduring influence of Roman Britain. Emperor Hadrian commissioned numerous building projects during his 21 year reign besides the wall that bears his name. A bronze figure of Hadrian, who had a number of male favorites, was depicted on a 1993 stamp. The stamp and postcard sets, as well as other items, can be ordered from from the Royal Mail Shop.
New Spanish Stamp Features Rainbow Flag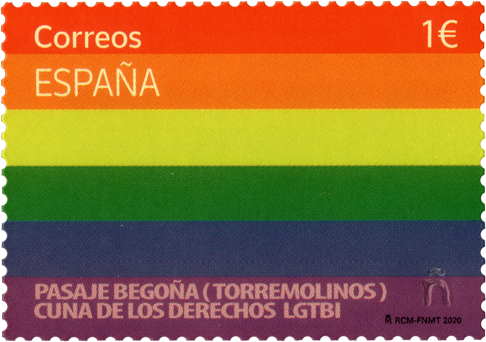 Spain issued on June 15 a 1€ rainbow flag stamp commemorating the Pasaje Begoña, an alley in Torremolinos, a beach town on the Costa del Sol where the country' first gay bar opened in 1962. By 1971, the alley had become an epicenter of a thriving gay scene in conservative Spain, then ruled by the oppressive dictator, Gen. Francisco Franco. On June 24, of that year, a massive police raid resulted in as many as 400 persons being arrested and fined astronomical amounts. As many of those arrested were tourists who were subsequently deported, the raid brought international condemnation. Decades passed before Torremolinos regained popularity as a tourist destination. The last line on the stamp translates "Cradle of Gay Rights". According to an article on the internet, the stamps are selling well despite controversy. For futher information, visit the Spanish Post Office's philatelic website.
Fictional Transgender Character Portrayed on New British Stamp
The Royal Post issued on May 28 a set of eight stamps and a souvenir sheet for the 60th anniversary of Cornonation Street, the United Kingdom's longest-running soap opera. One stamp from the sheet of eight features the transgender fictional character Hayley Cooper, as portrayed by Julie Hesmondhalgh. Ms. Hesmondhalgh became the first Friend of Trans Media Watch in 2011. The soap opera is Great Britain's highest rated television program; some of the actors have been on the show since its inception. The eight stamps and the souvenir sheet are also available in a presentation pack. For further information, visit the Royal Mail Shop.
Two LGBT Personalities on New U.S. Stamp Issue
Issued on May 21, 2020, in New York City was a quartet of stamps that celebrates the Harlem Renaissance, an artistic and literary movement of the 1920s.
One of these stamps honors writer, philosopher, educator, and patron of the arts Alain Leroy Locke (1885-1954), who in 1907 was the first African-American to be selected as a Rhodes Scholar and went on to be become chair of the department of philosophy at Howard University. A gay man, he may have supported other gay African-Americans who were part of the Harlem Renaissance.
Appearing on another Harlem Renaissance stamp is Nellallitea "Nella" Larson (1891-1964), a mixed race nurse and librarian who wrote two novels, Quicksand, which is largely autobiographical, and Passing, an examination of racial identification and marriage that includes a lesbian subtext between protagonists, Claire and Irene. Identified as bisexual, Larson married in 1919 but by the late 1920s the marriage was failing and a divorce was finalized in 1933. Suffering from depression after her ex-husband died and the generous alimony ended, she quit writing, abandoned her literary circles and returned to her nursing career. The other two Harlem Renaissance stamp honorees are Arthuro Schomburg and Anne Spencer.
Further information on these and other announced 2020 U.S. Stamp issues may be found at Virtual Stamp Club.
Australia Honors Comedian Szubanski
One of the four stamps in an Australian Legends of Commedy set issued April 15 features television and film actress, comedian and writer Magda Szubanski. The Liverpool, England, native was born in 1961 but attended school in Australia. Her mother is Scottish-Irish and her father was Polish, having been in the counter-intelligence branch of the Polish resistance during World War II. She got her start in comedy on television, where she has produced much-loved characters, especially the people-pleasing, accident-prone Sharon Strzelecki in Kath and Kim, depicted on the stamp. She also played Esme Hoggett in both Babe movies, and voiced Miss Voila in the two Happy Feet films. She came out in 2012 and was a leading voice in support of same-sex marriage. She released her award winning memoir in 2015. For further information, including how to order, see the official stamp annoucement.
Rainbow Colors Appear on New Philippines Stamp
For Valentines Day, the Philippines issued on February 5, 2020, sheetlets of eight "The Love We Deserve" stamps, each having four se-tenant stamp designs. One of the four, shown here, is inscribed "Love Knows No Gender" and features a rainbow heart; the country name and denomination are also in rainbow colors. The themes on the other three stamps are "Love Nature," "Love for Country" and "Love Yourself." According to the press release, the issue quantity is 40,000 stamps. There were 400 official first day covers also prepared. More information is available on the PHLPOST website.
Interest in LGBT Pride Cancels Wanes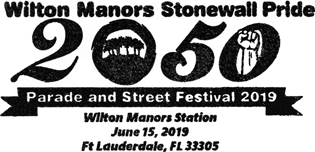 Since their heyday in the mid-1990s, special cancels for American GBLT pride events have almost disappeared. Back then, it wasn't usual for a half dozen or more cancels to appear in various U.S. cities during a year's time. So far, for the 50th anniversary of the Stonewall Riot, there is no indication of any postal commemoration in New York City, where the melee occurred. At least the anniversary wasn't completely unnoticed; it was the theme of a cancel for the Fort Lauderdale's 2019 pride event.
The sporadic appearance of pride cancels since the 1990s might be attributed to the decline in usage of postal system for personal communications and the consequent lack of awareness among younger individuals about the availability of a cancels for the events they organize.